About Us
Looking for the best knitting supply shop? Knitology provides you with some of the top hand-dyed yarns as well as some of the old favorites created by the larger commercial companies. We pride ourselves in providing an all-inclusive environment for our knitters by providing a large selection of yarn that will fit every budget as well as a welcoming environment for all, no matter your skill level, craft or budget. We also have a great selection of knitting needles and knitting/crocheting essentials as well as some great gift ideas for the knitters in your lives!
Knitology opened its doors in January of 2016. It is owned by spouses Randy & Michael. Both are Michigan Natives and enjoy the gorgeous scenery and outdoor activities that northern Michigan has to offer. Michael has knitted for many years. Though he knew how to knit, he was reintroduced to the craft while attending college to earn a degree in Occupational Therapy. Knitting, along with other crafts, was taught as a part of the curriculum to learn purposeful activities that would be beneficial for patient recovery with emphasis on range of motion. This is where his true love for knitting blossomed and he never looked back. Now the resident "yarn doctor" he is happy to share his knowledge with the knitting community. Randy had never picked up a set of knitting needles prior to owning Knitology. He started by taking one of the beginning knitting classes in which he says he was the worse student. He has excelled in the knitting field and is responsible for many of the shop samples you will see in the shop. Randy likes for others to know about his humble beginnings in the knitting field so that he may encourage others who are just starting in the craft and are frustrated. He exceeded quickly in his skill level and is now a great resource for our beginning knitters as he says he remembers the things that he found helpful when starting his knitting obsession. Together, Michael and Randy are a great knitting resource for those who need help and would like to be taught with patience and understanding. The decision to open Knitology was one that was made by listening to so many in the knitting community. Many in the fiber community had encouraged us to go forth as they felt that there was a need for an LYS that was inclusive and friendly and where anyone could go to purchase yarn and be helped without being felt like they were imposing or did not belong. That has always been our customer service model "To treat others as we would like to be treated" and that is exactly what you will find at Knitology!
We carry a large variety of yarns in every weight, color and price range. Knitology has the great benefit of space and that allows us to provide what many yarn shops do not, a range of yarns that meet every budget! So many shops are limited by the square footage and chose to only supply the yarns that can make them the most money and who could blame them? Because we have space and because our goal was to be inclusive to all, we choose to carry some high-quality acrylic/acrylic blends to go along with our outstanding lines of gorgeous high-end hand-dyed yarns! We always say that even our yarn snobs (Meant with affection and ourselves included) will purchase our high-end yarns but also want the luxury of purchasing good quality blends that will be used for babies and people who do not, or can't be trusted, to handwash their handmade items at the same place and time. We carry a large selection of knitting/crocheting notions to meet almost any need. We have a large knitting needle selection that includes straight needles, circular needles as well as interchangeable needles to meet any project needs. We supplied a dedicated computer for customer use to purchase and download patterns. Many of our customers are not internet savvy and ask us to assist in finding patterns and projects online and we are always happy to help in any way we can. We have locally made Project bags, totes, notion bags as well as locally made buttons, gorgeous pompoms and even locally made "nesting balls" that not only benefits the birds, but they are made by a local charity and the money we spend goes directly to assisting this great charity. You just never know what you may find when you stop in!
Knitology is home to northern Michigan's only dedicated knitting lounge, The Knitter's Nest! When we were brainstorming the idea of what to provide for the yarn crafting community, we knew we needed to have a dedicated space that was intended for the community. This is a space where our customers can enjoy the company of other like-minded yarnies. Being in the knitting community for years, we saw the need to provide a space where others could get as much assistance as they needed while surrounded by so much inspiration, gorgeous yarn, and notions. Many of our regulars often say how nice it is that while you are working on a project and forget something in your project bag, that you could just stand up and get what you need and get back to your project. We have provided Ott lights in an already well lite area for amazing clarity and comfort which then provides for a happy work environment. It doesn't hurt that on the first Saturday of the month, there is a free pancake or french toast breakfast with bacon and sausage. It's just a little way to say "thank you". Combined with our classroom, we can easily provide space for 40+ people!

Classroom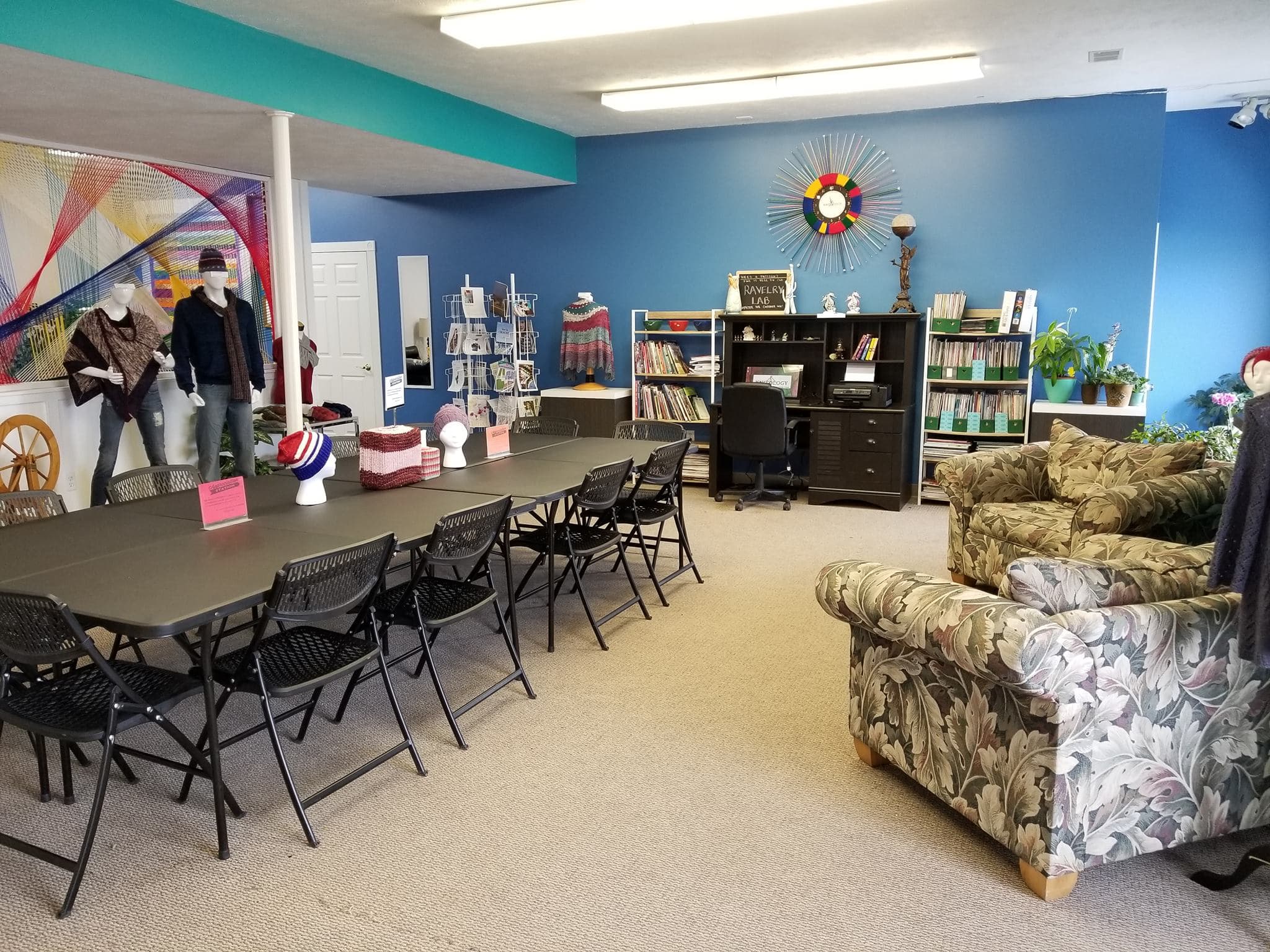 Our classroom is a very large, brightly lite space designed with the purpose of instructing and as a space for events. Many of our customers prefer this area over the lounge as a place to spend the day. We sat on many chairs until we found the perfect option that provided comfort and support. This area is often used for our customers who stay long enough that they bring a lunch and spend the day. Not pictured in this area is the kitchen that we put in as a place for our groups to have a monthly potluck and our 1rst Sat breakfast event. If you have a group that would like to use our space for a fiber-related event, let us know and we may work something out. We are looking forward to sharing this space in some upcoming events with Indie Dyers as well as guest designers.